Got the Holiday Blues?  Depression . . . Stress . . . Anxiety? This can be a very difficult time of year for many of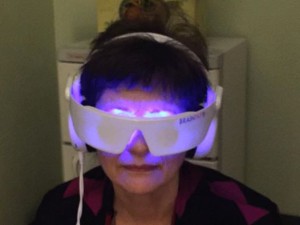 us. But exercise and BrainTap Technologies can offer you HOPE (excerpt below from braintaptechnologies.com).
For many of the millions of people suffering from depression, stress, and unhealthy lifestyles, exercise can help. In recent years, many healthcare professionals have focused efforts on discovering the possibilities of using exercise as a form of treatment for depression. Due to the increased "feel good" endorphins that exercise releases, people tend to be happier and feel more relaxed after they workout.
Some people also use exercise as a form of distraction. Being able to take your mind off of what is causing stress, for even a short amount of time, can help eliminate much of the anxiety that comes along with stress, ultimately decreasing those stress hormones and bringing your body back into balance.
Exercise is a great way to stay level and balanced during the holidays, but the problem usually lies in the lack of time people have during these times. Fortunately, there is a solution!
Braintapping for 20-minutes a day can significantly decrease your stress, help you get back to and maintain a healthy lifestyle, drop those unwanted pounds, and help to increase endorphins allowing for a less stressful, more enjoyable holiday!
With BrainTap, the Just Do It! session, located in the Vibrant Health series, can help you get back on track with exercise so that you can live a longer, happier, and healthier life, starting today! Also, check out the Exercising is Energizing session located in the series, Habits of Naturally Thin People 01 – 15 and Exercise – Your Key to Lasting Health and Vitality located in Habits of Naturally Thin People 16 – 30 to get you started on the right track.
Don't let the holidays get you down this year. Let BrainTap help you overcome the holiday blues. Check out their website at www.braintaptechnologies.com
If you like what you learn, we offer these at Living Well Dallas for the same cost as you pay through BrainTap Technologies' website.  BUT, we give you more FREE  PROGRAMS than you would receive from them.  They make great Christmas gifts.  See all the different programs you can choose to listen too.  There is almost 800 of them!
To purchase or inquire more, call 972-930-0260.