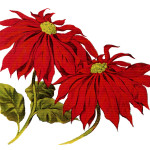 Ever heard the one about Poinsettia's being poisonous?  Not true, it's a myth.  What about the suicide count being highest at this time of year?  Again, not true.  And how about New Year's Eve being the worst night of the year to be driving?  Not so, that would be July 4th.
But there are some health hazards to be concerned with or careful about during the holidays, such as overeating, climbing on the roof to hang Christmas lights, or letting a live tree get too dry and being a fire hazard.  Click here to read more about what you should be careful of during the holidays.
Having said this, if you do find yourself with an injured back from falling off a ladder or even being just a little down during this holiday season, consider a Bowen Therapy session.  Bowen Therapy not only is a quick fix for acute injuries, but also balances the emotions, especially when used with LED Light Therapy at Living Well Dallas.  The LED eye mask stimulates the release of melatonin and seratonin (the "happy hormone") to help you get a good night's sleep and be uplifted while you are awake.  
To schedule your Bowen Therapy with LED Light treatment, call Living Well Dallas 15 972-930-0260.  And have a safe and happy holiday season!