For sessions or information
Feel free to contact me for more information regarding my sessions or how Bowen Therapy or LED Light Therapy can help with your particular health condition.  My goal is to promote a healthier lifestyle, relieve acute and chronic pain, and resolve various other health concerns. Look over my Services and FAQs and email me for questions or a consultation today (email address below).  Or call Living Well Dallas at 972-930-0260 and schedule your session with me.  Let's get you back in the game of life!  Quickly!
Brenda Briscoe, LMT
Bowen Therapy and LED Practitioner
bowenguru@gmail.com
All forms of payment accepted (cash, checks, debit/credit cards, and HSA cards) — Gift

Certificates available
We are a cash pay facility.  This means we do not work with insurance companies.  If you want to file with your insurance company for reimbursement, we are able to provide ICD codes for that purpose on your receipt.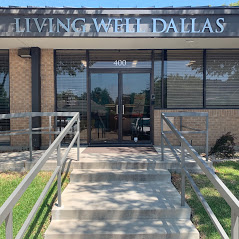 17000 Preston, Bldg. 4, Suite 400
Dallas, Texas 75248
Session Availability
Sessions available Monday, Tuesday and Thursday 9:00am to 6:00pm.  Saturday sessions available upon request if emergency or other extenuating circumstance (long distance, no time off work, etc).  Remote or distance sessions are also available (includes a phone call before and after your session).  See my Testimonials page to see how others have benefitted from long-distance, or remote, sessions.
Please contact the office at 972-930-0260 for a specific appointment date and time.
Check out other services at Living Well Dallas at www.livingwelldallas.com
Living Well Dallas is located in East Preston Trails business park in North Dallas (area code 75248).  This is on the east side of Preston Road just south of Campbell Road (not on a corner).  We are a functional medicine clinic with MDs and clinical nutritionists (all trained in the functional medicine approach to healthcare), plus health coaches and other alternative health therapies. Check out the Services & Therapies page on Living Well Dallas' website for more in-depth explanation of our offerings.