Nutritional  Supplement  Products
As an independent distributor, I offer over 600 nutritional products from Nature's Sunshine Products.  This  is a pharmaceutical-grade product line and one that I trust for quality and consistency.  For more information on NSP products or to order online, please visit my product website at brendabriscoe.mynsp.com.
You can get your own account number for convenience.  With this, you get better pricing by buying directly from NSP.  Also, you can order for 25% off on your first purchase.  For future purchases you can sign up as a wholesale member.  This is FREE and there are ways to get free shipping.  I prefer everyone using products at the most savings. If there are products you begin to use monthly, the best deal is to order through the Subscribe & Thrive program.  You will get free shipping as well as the best possible discount (20%).  Want to earn a rebate?  Accumulate a monthly volume over $500 and NSP sends you rebates.
If you want to find a particular product, choose a category and click it on this page.  Just hover over SHOP and see all the categories listed.
Instructions for ordering products and signing up as a NEW MEMBER:
Put an order  in the cart.
When you go to check out, you can click on SIGN UP.
Then give my member number (8163) if it is asked for.
Make sure my name shows up as your sponsor.
If you use my link this will automatically happen.
If you call your order in, you will need to give my name and member number (8163).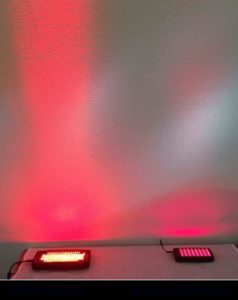 LED Light Units
The LZR UltraBright LED Light system products are for sale here for the same price offered on their own site. We also offer the same warranty. This photo demonstrates how powerful the LZR UltraBright LED light unit (left) is. Compare the light output to the typical LED light pad of most units (right). Although both have red light, as well as near-infrared light, you can see the difference. The one on the left is emitting far more powerful light than the one on the right. The best news is that the LZR UltraBright takes only ONE MINUTE for each treatment area to equal the benefits of a 20-minute treatment from any other LED product on the market.
If you would like to try this before purchasing your own, feel free to call 972-930-0260 and schedule an appointment for an LED Light treatment at Living Well Dallas.