At Living Well Dallas, sleep disorders are one of the main issues we help people with.  It seems to be so prevalent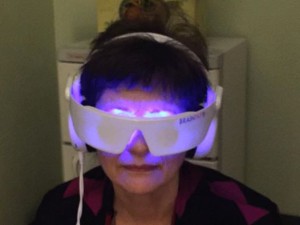 these days.  We carry some great nutritional supplements to help with sleep.  We also have health coaches who can guide you on eating and drinking habits that can help with your sleep.  Bowen Therapy can also be very effective in helping down-regulate the autonomic nervous system, so as to get you to sleep better at night.  Getting enough exercise on a daily basis helps resolve issues if done consistently.
The practice of meditation has been proven to be very conducive to getting a good night'as sleep.  Here is an article that elaborates on this subject.  Also, did you know that at LWD we have a device called BrainTap that quickly and easily takes you into a meditative state? It even has several programs you can listen to that are specifically designed to help you sleep to your heart's content.  Come in and sample it for free.  Just call 972-930-0260 and ask for your free initial demo of BrainTap if you have never experienced it with us before.