BowTech & NST Services
The hands-on therapeutic services of Bowen Technique (BowTech) and Neuro-Structural Integration Technique (NST) both fall under the umbrella of Bowen Therapy.   The late Tom Bowen of Australia developed BowTech to facilitate whole body healing.  Michael Nixon-Levy fashioned his NST modality after Mr. Bowen's original work. These methods continue to gain in popularity in the U.S. because of their incredible effectiveness.  Their purpose is to remove pain and other physiological dysfunctions by restoring the structural integrity of the body.
The procedures consist of a series of skin-rolling movements.  They are done on specific points on the body (acupoints). The movements are gentle and can be done through clothing.  Frequent and important pauses between sets of moves give the body time to benefit from each.  Relaxation begins from the get-go.  Because Bowen Therapy activates the body's natural ability to heal itself, recovery is usually quick and profound.  Neuromuscular compensations begin to unravel.  And clients are often aware of an organized healing response taking place.  Every system of the body balances itself. As a result, clients experience quick, profound, and long-lasting resolution to many health problems.
Essentially, the Bowen Technique helps the body remember how to heal itself.  The nervous system sends electrical impulses to the brain to remind the body to regain normal movement in muscles and joints. Two or three treatments are usually enough to achieve long-lasting relief. Even long-term conditions often respond very quickly.
For more detailed information on Bowen Technique (BowTech), go to Bow Tech.  For more on Neuro-Structural Integration Technique (NST), visit Dr. Mercola's site and search for "NST."
See a short, fun, animated video about Bowen Therapy here.
If you are not from the Dallas area, click here to find a practitioner in your area.
Massage or Other Techniques
When Brenda feels that a client needs a break from Bowen Therapy, a massage session will be customized using one or more of the following techniques according to the needs of the client:
Gua Sha (an ancient Korean therapy using specialized tools for releasing the fascia)
Trigger Point and Myofascial Release techniques (to release tension, fascia, and tender points in the body)
Muscle energy techniques (to help train the muscles to relax or strengthen as needed)
Use of aromatherapy oils
EFT (Emotional Freedom Technique), sometimes referred to as "Tapping" to release deep-seated emotional issues that may be trapped in the body's tissues (e.g., fear in the kidneys, anger in the liver, grief in the lungs or bowels)
Rate:  Bodywork services are $125 and are customized to your individual needs.  
Call Brenda (214-679-4618) for a free initial consultation to see if her services are a fit for you and that you are a good candidate. 
LED Light Therapy
LED polychromatic light therapy involves the use of light emitting diodes (LED) delivering red, blue, and infrared light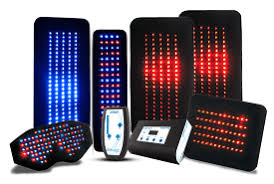 to the skin.  These wavelengths stimulate ATP (adenosine triphosphate) for cellular energy, as well as activate the release of nitric oxide (NO).  Both are beneficial for increasing blood and lymphatic circulation and cleaning up toxins to get them out of the tissues, resulting in quicker healing.
NASA studies demonstrate cells exposed to LED light therapy exhibit a 150% increase in cellular metabolism, suggesting enhanced cellular repair and vitality.  Medical researchers across the globe are currently investigating a wide array of physiological benefits produced by LED light therapy.
LED light therapy is non-abrasive, non-invasive, painless, and restorative.  It is safe in the clinic or at home for all ages and skin types.  Home units are available for purchase, as daily application affects quicker healing.
Rate:  $50 as a stand-alone service.  Discounted packages available for multiple sessions, depending on the number of sessions purchased.