Prolonged, strenuous or unaccustomed exercise can strain the back muscles.  This strain can lead to soreness and tightness.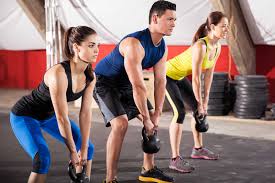 For example, most of us have made a New Year's resolution at the beginning of January to become more fit.  We go back to the gym after a long period of little or no exercise for months, and we overdo it to the point where we are sore for days afterwards.  Instead of going all out, we should ramp up the weight and reps gradually so that we don't suffer so much or don't get discouraged.
How about those holidays where the guys get outside and play football on Thanksgiving or Christmas Day?  They've waited all year long to do this ritual with family and friends, but they want to go all out and really play hard once or twice a year.  They are going to suffer.  
Stretching before and after exercise can help with the soreness, as well as icing the sore areas afterwards.  LED Light Therapy and Bowen Therapy are two good therapies to receive after a workout like this.  Both will help speed recovery along tremendously. 
To make an appointment for either of these therapies, call our front office at 972-930-0260.
Some of this information was taken from The Bum Back Book.